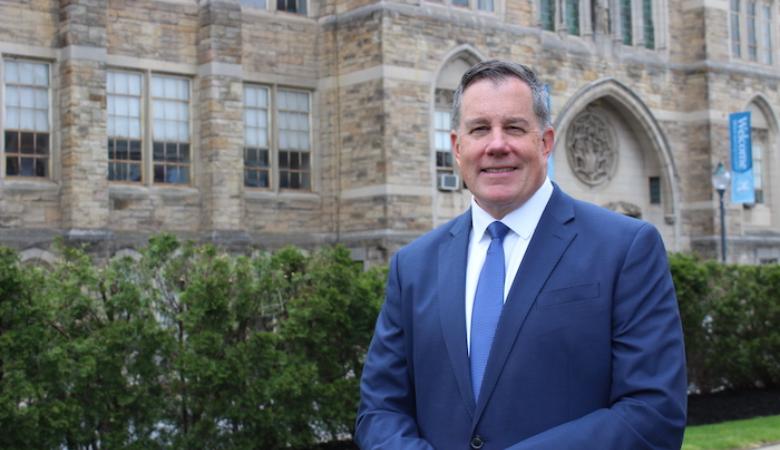 May 04, 2023
St. Mary's-St. Alphonsus School, Glens Falls, Announces New Principal
St. Mary's-St. Alphonsus School (SMSA), in partnership with the Catholic School Office of the Roman Catholic Diocese of Albany, has announced the selection of a new principal, Mr. Patrick Gormley. Mr. Gormley is a parishioner of St. Mary's Parish, graduate of St. Mary's School in Ballston Spa and Saratoga Central Catholic High School, and veteran educator at Queensbury High School. The appointment takes effective July 1, 2023.
The selection comes following an extensive interview process in collaboration with the pastor, parish community representatives, teachers, and school board members.
"God has brought a true renaissance man to lead SMSA through our next chapter," said Fr. Scott VanDerveer, Pastor of St. Mary's Church. "Patrick's broad education background, along with his coaching and freelance writing and illustrating, make him uniquely qualified to fill our children with a love of learning and pursuing virtue."
A certified school administrator and certified teacher of English and Art, Mr. Gormley has taught a variety of English courses at Queensbury, including a senior elective on Adirondack Literature that he conceived and designed himself.
In addition, Mr. Gormley has coached all levels of boys and girls sports, including varsity, JV and modified football; boys and girls lacrosse; and boys and girls basketball. He is a published writer and illustrator with a celebrated talent for drawing caricatures.
"I am so grateful for the opportunity to become the next leader at SMSA", said Mr. Gormley. "I am excited to begin the next chapter of my educational journey and to work collaboratively with Father Scott, the School Board, and with the devoted faculty and staff. As the incoming principal, my first priority is to listen. I intend to learn as much as I can by talking with everyone invested in the success of our great school. As a teacher for the past 30 years, I don't remember a year when I wanted the summer to end sooner than it did. I can't wait for September!"
Mr. Gormley earned a BA at SUNY Cortland, a Masters in Education at Canisius College in Buffalo, and did his post graduate studies in Educational Leadership at SUNY Plattsburgh. He is the father of Liam, who graduates this spring from Cornell University, and Aiden, who begins officer training at The U.S. Naval Academy in Annapolis, Md., this summer.
The parish and the school will be hosting "Meet the Principal" events throughout the summer to provide members of the community opportunities to welcome Mr. Gormley. St. Mary's-St. Alphonsus School recently celebrated its 140th anniversary of providing excellence in education in the city of Glens Falls.