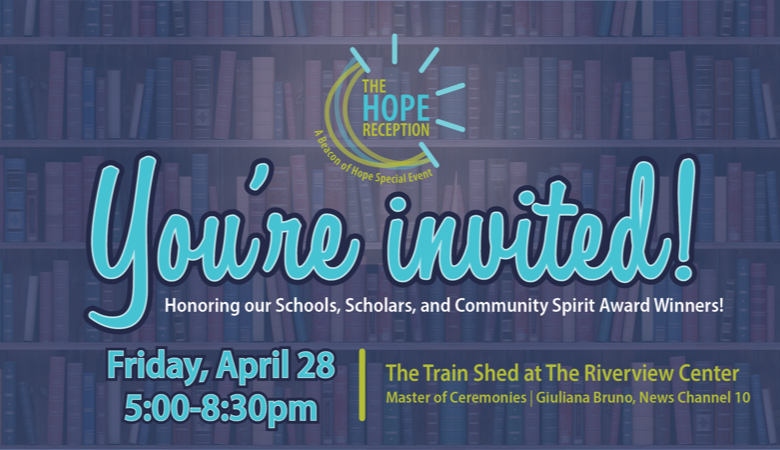 March 09, 2023
Save the Date: 2023 Hope Reception Set for April 28
Join the Diocese of Albany Catholic Schools for the 2023 Hope Reception to be held Friday, April 28, from 5 to 8:30 p.m. at the Train Shed at the Riverview Center, 150 Broadway, Menands. Giuliana Bruno of News Channel 10 will serve as Master of Ceremonies at the event that supports the Beacon of Hope Scholarship Fund and celebrates the exceptional scholars and talented students, dedicated Community Spirit Awardees, and outstanding Catholic school communities throughout the 14-county Diocese.
The Community Spirit Awards recognize an outstanding individual (or dynamic duo!) from each one of our Catholic school communities who goes above and beyond, giving the immeasurable gift of time and talent to our schools. From the parishioner who helps in the cafeteria, to the grandparent who shares a love of reading, to the co-chairs who enthusiastically lead important fundraising efforts, our Catholic schools benefit greatly from the love and devotion of so many exceptional individuals.
During the 2022-2023 school year, the Beacon of Hope Scholarship Fund provided support to more than 420 students in Catholic schools throughout the Diocese. Our students are thriving because of the steadfast mission of Catholic education, the dedication of the individuals like our 2023 Community Spirit Award honorees, and your generous contributions to the Scholarship Fund.
This year's Hope Reception will feature entertainment provided by our outstanding Catholic school students and will showcase the arts, music, and clubs that exemplify the diverse and dynamic learning opportunities our schools proudly offer.
Registration for The Hope Reception is now open. Join us!