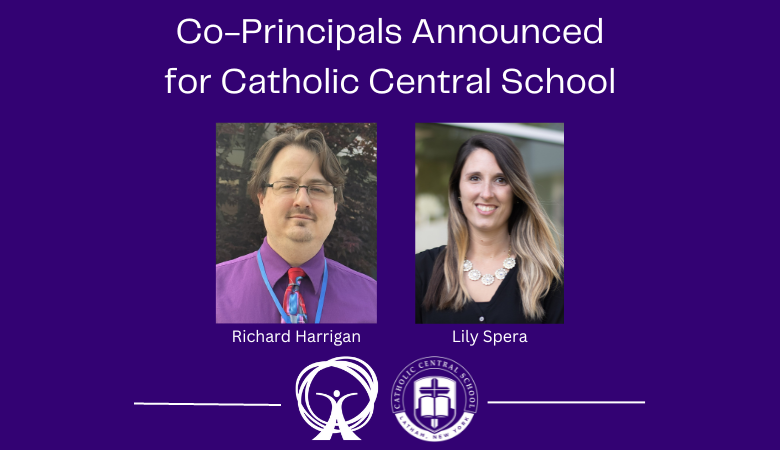 May 24, 2023
Catholic Central School Co-Principals Announced
Catholic Central School in Latham has announced the appointment of Richard Harrigan, III as co-principal, effective immediately. Mr. Harrigan has been serving as Interim Upper School Administrator at CCS since July 2022. Going forward, the school will shift to a co-principal model, and Mr. Harrigan will serve alongside Lily Spera, who has been principal of the Lower School at CCS since July 2022.
"It is exciting to see Catholic Central School continue to evolve and grow into the successful model we always knew was possible," Bishop Edward B. Scharfenberger said of the appointment. "I am confident that Mr. Harrigan and Mrs. Spera will take Catholic Central to the next level through their shared leadership and deep commitment to Catholic education."
Prior to being named Interim Upper School Administrator last year, Mr. Harrigan served as a social studies teacher at Notre Dame-Bishop Gibbons School in Schenectady for 15 years, and as NDBG Middle School Coordinator for three years. He also currently serves as Social Studies Department Chair for the Diocese of Albany Catholic Schools. Mr. Harrigan holds a Bachelor of Science in Adolescence Education, Social Studies 7-12 from SUNY Oneonta, and a Master of Arts in Historyfrom SUNY Albany.
"I am most grateful to Bishop Scharfenberger, Father Kelly, and the Catholic School Office for the opportunity to continue to serve the school community of Catholic Central School as co-principal," Mr. Harrigan said. "The last year has been a rewarding and challenging experience as we bring together two school communities, and I feel incredibly blessed to be part of the new Catholic Central as enters its centennial year as one school with one mission."
Catholic Central School, located on a 19-acre campus in Latham, opened in September 2022, bringing together students from St. Ambrose School in Latham (pre-K to 5th grade) and Catholic Central High School (CCHS) in Lansingburgh (6th to 12th grade). CCHS, which was founded by Bishop Edmund F. Gibbons in 1923, marks its 100th anniversary this year, something that is being celebrated by Catholic Central School as the successor of CCHS.
"Through this appointment and, by extension, the new co-principal leadership model, Catholic Central School continues to explore new ways of advancing Catholic education and cementing the school's role in the academic landscape of the Capital Region," said Dr. Giovanni Virgiglio, Superintendent of Schools. "Over the past year, Richard and Lily have worked together to forge a path forward in partnership with Father Kelly and the St. Ambrose Parish Community, and I look forward to seeing where this dedicated team take CCS in the years to come."
Mrs. Spera, who served as principal of St. Ambrose School prior to the opening of Catholic Central School, will continue in her leadership role at CCS. A 2023 graduate of the Rensselaer County Chamber of Commerce Leadership Institute, Mrs. Spera has been serving Catholic schools in the Diocese of Albany since 2018, when she joined the staff of St. Ambrose as a math teacher. Prior to that she served in public school districts in Newburgh, Pinebush, Kingston, and Poughkeepsie, as well as St. Martin de Porres Catholic School in Poughkeepsie. She holds a Bachelor of Science in Childhood Education 1-6 and Mathematics from SUNY New Paltz.
"Mr. Harrigan has been a wonderful addition to the Catholic Central Community," she said. "It has been such a blessing to work with him and to have a strategic partner help to pave the way for the future of CCS."